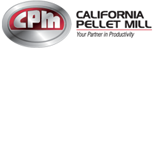 CPM - California Pellet Mill
1114 E. Wabash Avenue, Crawfordsville, IN, 47933,
United States of America
Tel: +1 765 362 2600
Fax: +1 800 428 0846

Visit Website
Company Profile
CPM stands for California Pellet Mill Co. with a history going back to 1883. Today CPM is part of a wordwide group of companies including Roskamp Champion, Beta Raven, Century Extrusion and Wolverine Proctor & Schwarz which are forming the CPM acquisition corp. CPM acquisition corp. is owned by Gilbert Global Equity Partners.
CPM is well known, not only in the animal feed industry but also in other industries, where CPM pellet mills and other equipment are used all over the world.