Coolers
Manufacturers & Suppliers of Coolers

Bliss Industries LLC

Promill Stolz

Ana International Milling Systems and Technology

Millson Engineering Ltd

Mabrik, S.A.

Yeong Ming Machine Industrial Co., Ltd

Five Continents Machinery Co

Milling Trade Limited
National Initiative patent number: 201,120,166,690.X Using the principle of counter flow cooling pellet with high temperature, high humidity, avoid direct contact with cold wind and hot pellet, which can effectively prevent the particles from surface cracking; Material temperature not higher than +3 degree at room temperature after cooling, moisture reduce not less than 3.95%, postponed the..
Counterflow process is the refined technology of exposing processed product to an upward moving stream of ambient airflow. The cool air meets the hot pellet feed creating convection, effectively removing moisture from the pellets and reducing their temperature.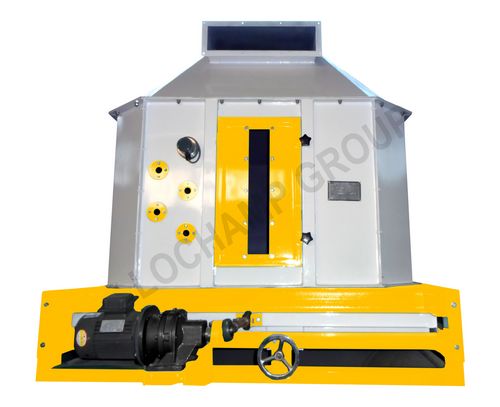 Making cooling full, extend material storage time Advanced theory of counter flow cooling, widely use in feed pellet cooler, such as pellet, expansion material, extruding material so on. Octagonal section into the cooler ensures no death corner and is propitious to material cooling New Rotating spreader ensures full and thorough cooling of materials and can evidently reduce the breakage rate, it can..