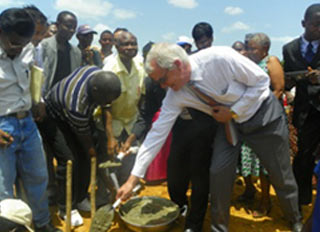 BRAC Liberia successfully launched a poultry programme, Poultry Hatchery and Feed Mill Project, in Neekreen, Buchanan, Grand Bassa County, Liberia. The groundbreaking project, the first hatchery and feed mill since the civil war, engages 40 staff and 200 community livestock and poultry promoters, and will directly benefit 300 farmers.
BRAC-Liberia International a Bangladeshi welfare organization, has apportioned over USD$2.5 million for the production of poultry in Liberia and last year recieved a grant for the project.
In his speech, BRAC Liberia's country representative, Mohammed Abdus Salam said that BRAC identified the absence of poultry feed in Liberia which is essential to develop the poultry sector in the country. Considering a growing demand for this, BRAC in collaboration with Chevron, setup the unique project. In addition to helping the farmers, the project will also create employment opportunities and strengthen the poultry sector. Mr. Salam thanked Chevron and the European Union for their contribution to the food security project and commended their partnership in further expansion of the poultry farm feed mill.
Madam Etweda Cooper, the Grand Bassa County Superintendent, remarked that the project was a great milestone for the county's citizens and will go a long way in bringing much needed development. She praised BRAC Liberia for its contribution in establishing the first hatchery and feed mill after the devastating war in Liberia and expressed her willingness to work closely with BRAC Liberia, Chevron Liberia Limited and European Union. She also called on the residents of the district to help sustain the project and work hard to reap benefits from it.
Chevron's country manager, Karl Cottrell expressed his optimism that the project will expand outside of the county so that Liberians do not have to buy chicken and other poultry product from Europe and other West African countries. He envisions that the project will reach more than 3,000 beneficiaries in the near future, with significant improvements in the next five years. Mr. Cottrell underscored the need for continuous partnership between BRAC, Chevron and the Ministry of Agriculture in bringing sustainable growth in Liberia.
Dr. Sizi Z. Subah, the Deputy Minister of Agriculture, emphasised on the ministry's commitment in attaining food security, and called on the Liberians to elevate themselves to the condition where chicken and poultry products are not only delicacies of the holidays. He further pledged his Ministry's unwavering support in assisting BRAC to successfully complete the poultry hatchery and feed mill project in the Grand Bassa county.
James B. Logan, the former Deputy Minister of Agriculture, who initially worked with BRAC during the project's planning stage, urged the resident of the area to embrace and engage in the project so that the beneficiaries are able to maximise their return.
The citizens of the district echoed the optimism of the speakers, and expressed their gratefulness and commitment in making the project successful.