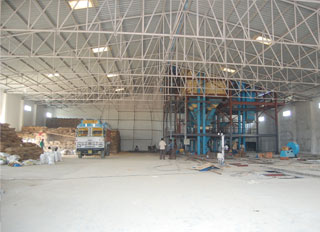 Anmol Feeds Ltd was awarded with the 'Emerging Miller Award' during the VIV Asia 2013 trade exhibition, held in Bangkok, Thailand.
Anmol Feeds is the first winner of the new award, with more than 100 other applicants from other feed milling operations located throughout Asia vying for an award.
The emerging miller award is a complementary award designed to encourage feedmillers in emerging markets to participate in the competition
The award, was bestowed to Managing Director Mr Amit Saraogi at the event, which was attended by industry related people along with visitors to the trade show.
Started in 2000, Anmol Feeds Ltd has grown to be a household name, supplying the poultry, aquaculture, and dairy industries in the Eastern, Northern & North-Eastern regions of India.
The company has plans to expand on its current eight feed mills in operation, which have a combined production capcity of 22,000 tonnes per month, with plans to construct two new feed plants in 2013.
One of the new feed mills is set to be built close to the northern city of Chandigarh. The feed mill is expected to have a capacity of 4,500 tons per month and produce feeds for farmers in Punjab, Haryana and Jammu Kashmir.
The second feed mill is set to be built in Guwahati, the capital of the eastern state of Assam. This feed mill hopes to take advantage of the company's growing feed sales in the easternmost region where demand for animal feed is growing rapidly.