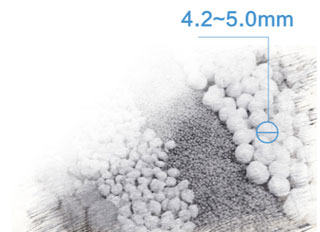 Tips for appearance quality control of extruded feed
The preference of good-looking products on the fiercely competing market have had feed manufactures pay more attentions to the appearance quality of extruded feed pellets. Muyang therefore in here offers some operational tips to help eliminate appearance problems and add value to feed ext
Full Article »
Latest Articles
Driven by the increasing consumption of fish meat due to world population boom and the limitation of wild catch, volume growth rate of global aquaculture has been sustained at about 8% over the last 10 years, and must continuously undergo a tremendous development in order to fill the huge gap between supply and demand for the premier protein sources. This represents a divine opportunity and a promising future for the aquafeed industry. The unique physiology of aquatic animal is asking for special requirements in aquafeed manufacturing..
Full Article »
At present, aquafeed extruder has won some popularity in aquafeed industry. Expanded aquafeed, as a high- quality feed species featuring high feed intake, high conversion efficiency and environment-friendly advantage, has been more and more well recognized and accepted in market. With the enhancement of extrusion technology, more and more feed manufacturers would like to produce small pellet aquafeed through direct extrusion cooking instead of pelleting-crushing. The diameter of die hole for the extruder for aquafeed usually is 1.2 mm or 1.0..
Full Article »
Screws and dies are critical parts of the extruder. The wear of screws and dies can significantly effects throughput and quality of extrusion products. For feed and food extrusion, the wear of metal parts may also put the products under the risk of metal pollution and cause food safety issue. Suppliers should take the responsibility and positive role in reducing the wear of metal parts in production and in improving feed-to-food safety. FAMSUN provides spare parts solutions that can not only maintain production lines at optimal level..
Full Article »
In 2013 the global feed indsutry comprised of 28,200 feed mills, according to the latest data published by ALLTECH as part of their annual feed survey. The world's total feed production was estimated at 963 million tonnes, up 1% on the previous year. The estimate of the total value of the feed industry was revised to around USD$500 billion, much higher than the USD$350 billion estimation of last year To help visualize the data, and provide an overview of global feed production in 2013, we have created the following infograh..
Full Article »