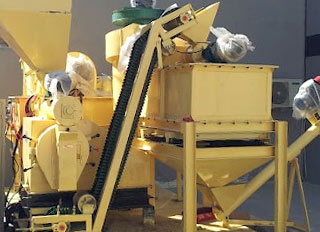 The new research project set up to help assist Papua New Guinea's (PNG) aquaculture, pig and poultry sectors to develop cheap balanced diets and to promote the establishment of small scale feed mills in the country, with the aim to make cheaper concentrate diets based primarily on local feed ingredients, reached the end of it's first year of operation.
Small-scale and semi-commercial farmers engaged in the aquaculture, pig and poultry industries can obtain better profitable by using local feed ingredients rather than using the more expensive imported ingredients. And the project bears to impact by providing a 25% increase in the profitability of monogastric sector and at the same time boost feed production by 5% per annum, which would br equal to approximately AUS$47 million. At the moment the local PNG monogastric sector has a market value of AUS$190.5 million per annum, and is comprised of around 600,000 small farmers.
The project, titled "Enhancing the role of small scale feed milling in the development of the monogastric industries in Papua New Guinea", is planned to run for 4 years, and just recently held it's annual review meeting in Lae on March 12-13 2013.
After its first year of implementation, all partners present at the annual review expressed their happiness with the progress so far.
The project which is funded by the Australian Centre for International Agricultural Research (ACIAR), is undertaken through a diverse collaboration involving the South Australian Research and Development Institute (SARDI), Primary Industries Industry and Investment NSW (Australia), Highlands Aquaculture Development Centre (HAQDC), National Agriculture Research Institute (NARI), National Fisheries Authority (NFA), PNG University of Technology (Unitech), Christian Leaders Training College (CLTC), Ok Tedi Development Foundation (OTDF) and the Lutheran Development Service (LDS).
The review was told that small-scale and semi-commercial aquaculture, pig and poultry farming is making an important contribution to the livelihoods of rural households in PNG. An growing amount of farms are being built around major urban markets due to the demand for high quality animal protein with some smallholders adopting appropriate management and nutrition using commercial feeds.
However farm viability is in question because of the increasing prices of imported feed ingredients and the lack of cheap animal feed made from locally sourced ingredients. Local feed resources are accessible that may be used more effectively in the feeding of fish, poultry and swine.
Economic modelling from an previous study shows that there is a substantial reduction in costs when poultry diets are produced by mini mills using locally sourced feed ingredients. The PNG government, NARI and NFA have stated that improving the profitability of the monogastric sector through the use of locally available feed resources has been identified as a high prioritye .
The execution of the project will call for specific business plans for feed mills to be built using information gained from other mini feed mill facilities set-up in previous ACIAR aquaculture and poultry projects at Goroka, Erap, Aiyura, Labu and Kiunga.
This project strongly works towards the vision of the PNG National Agricultural Development Plan (2007-2016), with the goal of transforming the country's agriculture sector into a vibrant and productive economic sector.