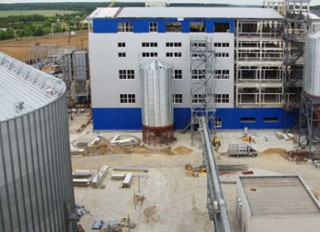 Work was continuing on the Vinnitsa poultry project as MHP, one of the leading agro-industrial companies in Ukraine, is looking to build the largest poultry-processing factory in Europe.
Work on the project began in 2010 with the construction of the first stage of Vinnitsa Broiler and poultry feed mill. At a cost of USD$750 million, the poultry facility will be capable of producing 400 tonnes of chicken per year, on four separate production lines.
The first poultry slaughtering line opened on the farm in the summer of 2012, and in 2012 the production of poultry at Vinnitsa farm was about 20 tonnes.
"Over 2013 [we] plan to increase production rapidly and as a result during the year to produce an additional 80 tonnes of chicken meat. The first phase of the complex (220 thousand tonnes of poultry meat) will finish construction and reach full capacity in 2014. Start of construction of the second stage (220 tonnes) is planned to commence in 2016. The second phase of the complex will reach full capacity in 2018-2019," the company said in a statement.
When completed Vinnytsia Broiler will be the largest poultry producers not only in the Ukraine, but the whole of Europe.
The complex also includes a feed mill and grain elevators. Construction has already finished for the sunflower seeds silo (200,000 m3) and grain silo (200,000 m3). Construction of feed mill is currently 70% completed will the oil pressing plant is 90% completed.