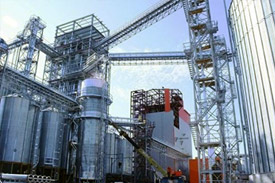 Russia's fifth largest capacity feed mill is preparing for commercial operations in the town of Nevel, in the Pskov Resgion of Russia. It is the largest and most technically advanced feed mill in the region, with a production capacity of 120.000-150.000 tonnes of feed per year.
Construction of the complex began in October 2010, with the feed mill currently being commissioned and preparing for the start of operations, with the facility expected to go into full commercial operation in July.
Head of State Department of Agriculture, Veterinary and state technical supervision of the Pskov region, Nicholas Romanov, said that the feed mill will have a completely closed production cycle, manufacturing high quality and balanced feed.
The facility which is divided into two sections: the grain storage section and compound feed milling section, is part of a large-scale investment project by Velikie meat processing plant. The pig feed mill complex is to supply feed to 2 pig farms also under construction by Velikiye. The 2 pig-breeding complexes which were originally planned to house 240.000 pigs each, but the project was expanded in April to bring the housing up to 1 million pigs in total for the complex.
The total cost of the project has not be revealed, but the feed mills cost is to believed to be in the region of 3 billion Rubles ($92 million USD), and the total cost of the investment project including the pig-breeding complex is 14.3 billion rubles ($430 million USD).
Photos from the developer of the project, and pig feed mill complex in the Nevelsk area firms: