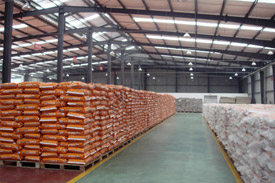 A new report by China Animal Husbandry and Veterinary details the speedy growth of the feed industry in Maoming, Guangdong, Southern China. The city has a history of being a competitive region for feed producers with many feed companies battling to win market share in the region, and the new report confirms an increasing number of outer province feed firms that are entering the highly competitive market.
Last year Maoming Jia Da Feed Company annouced that in aim to remain competitive and seek expansion in the market, it had invested more than CNY60 million, on the introduction of new processing techniques, new feed milling equipment, designed annual production capacity of up to 500,000 tonnes a year, among the highest in the region.
The first outer province feed manufacturer to set up in Maoming was Guangxi Yangxiang who set up their Maoming operations in 2006. Since then a large number of first have been attracted to the region including Da Bei Nong Group, Shuangbaotai, Zhong Liang, and Tong Wei.
"Earlier this year, Kondarl Group opened up it's Maoming Kondarl Company, while another 4 or 5 feed companies waited in line for approval to commence." Guoxian Fu, the Maoming feed office director said.
He said, Maoming had seen a growth in feed companies from more than 40 in 2008 to 54 at the present time. Representing an annual output growth rate of 30% per year.
"In 2011, feed production output in Maoming was 1.64 million tons, and in 2012 it is expected to reach about 2 million tons."
Large-scale feed production giants flock to Maoming as they fancy the broad prospects of the Maoming feed market
"Maoming was chosen for our feed factories, due to the huge area of farming in the region, and possibility to supply neigbouring areas including Zhanjiang, Yangjiang and Guangxi and Hainan. "said Hai Long Feed's pig feed general manager. The company set up it's first branch in Maoming in 2011.
In addition to this, Maoming and Zhanjiang waterways and rail transport continue to improve, making easier the importation of feed ingredients and the transportation of feed to customers in neighbouring areas.
Out of province feed companies need to consider how to survive, when moving their business inter-province. According to people working the local feed industry, with the soaring cost of raw materials and labor, monthly sales of at least 2000 tonnes is the critical line for a feed producer's business survival.
The majority of foreign feed companies however have the advantage of already having market share in the local area, making their survival easier. With this secure, all they need to consider is their plan for rapid growth and how to increase market share.
In November last year, Maoming JiaDa Feed Co., Ltd. had sales of 10,000 tonnes, and this was only after a few months in operation. The company's stated goal is to achieve 20,000 tonnes of sales.
In addition, Yang xiang, Shuangbaotai, Hai da and other enterprises have already reached the monthly sales figure of 10,000 tonnes, entering the ranks of having annual sales volume in excess of 100,000 tonnes of feed.
Out of state companies are gaining a firm foothold in a short time and achieving monthly sales of 30,000 tons, by firstly selling speciality feeds which local manufacturers do not have the ability to make. And secondly by their use of manpower. With these companies criticised for blanket marketing and human wave tactics.
Using heavy promotion plus increasing customer credit to seize the local customers, many of the existing local feed producers are not happy with the tactics and feel tey are unfairly diadvantaged. Because of this many local enterprises are lobbying for and actively contemplating changes.
On March 15, in Maoming City, dozens of feed business owners gathered to discuss preparations for the establishment of a feed industry association. Wanting it's establishment in order to oversee the important issues on how to regulate the market, how to avoid over-promotion and the negatives of a feed price war, and also to allow the market to return to healthy competition.
However the huge increase in feed companies entering Maoming and the increased competition between those enterprises is at the same time benefiting the local feed industry and existing local feed mills in Maoming. For a long time the region was suffered from the prevalence of small-scale and obsolete feed milling equipment, a shortage of educated feed industry workers, low management expertise in the industry, low technological content of its feed products, lack of marketing strategy, low customer credit, and liquidity problems, all of which have restricted the development of the local feed companies. With the influx of foreign enterprises in Maoming, the market is increasingly competitive, and alot of pressure will be put onto local enterprises. These companies will need to adapt to survive and Maoming's feed industry will see a new round of "shuffling".
Chen Shao, Maoming City Maonan Feed Industry Association chairman, and general manager of Maoming City Sunrise Feed Co., Ltd., said, "it is undeniable that foreign enterprises impact on local businesses is very large, however these enterprises are also bring some positive changes to the local feed sales."
"Firstly foreign enterprises have introduced the credit sales model, which had formely been only sales by cash transactions. Secondly, foreign enterprises are creating a corporate brand, and having a strong marketing team and many other points that local enterprises can learn from them..
Chen Shao, said local businesses must change ideas, to consolidate market share. He believes that, first of all is internal unity, we learn from each other and improve together. Companies also need to consider the unified procurement of raw materials, and improve production technology and management level, followed by feed corporate branding on an issue together to promote the full price of materials science and culture.
"According to market estimates, Maoming's feed demand stands at 6 million tonnes," Shao said. He remained optimistic on the future of Maoming's feed industry, closing by saying "We can see that the market is far from saturated, and there is plenty of future market space."