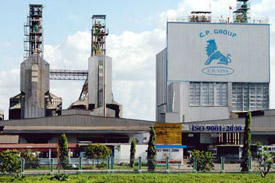 A new feed processing plant, along with distribution warehouse for fertilizer exports of agricultural products is to be built by Long Hai Joint Stock Company in Binh Dinh, Vietnam. The plant will be built on an area of 30.8 hectares at Nhon Hoa ward, An Nhon town.
The plant with a total investment of 530 billion dong, is expected to have a capacity of 65,000 tonnes per year. Currently, the land is being levelled in preparation of construction works beginning. It is planned that the feed plant will go into production in the 1st quarter of 2013, employing approximately 500 workers in total.
In addition to the plants mentioned above, this year investors to the region have also committed to starting construction of two more livestock feed plants in the Binh Dinh province.
The first one is a feed mill by CP Vietnam, to be built on 14.6 ha in area of Nhon Hoa Industrial Zone, An Nhon town. The feed mill will have a production capacity of 216 thousand tonnes per year, with total investment of the project more than 416 billion dong. The plant is expected to start construction late in the 2nd quarter of this year and be in operation by early 3rd quarter, 2013, employment to be provided for approximately 200 workers.
CP Vietnam currently operates five feed plants in the country and has plans to double that by the year 2014. The CP Group is Thailand's largest agricultural conglomerate, and has had a presence in Vietnam since 1992.
A new feed mill is also planned by Chinese company, New Hope, which is to be built on an area of 4.3 hectares also at Nhon Hoa Industrial Zone, An Nhon town. Planned production capacity is 100.000 tonnes with a total investment of more than 84 billion dong. The feed processing plant will also begin construction at the end of the 2nd quarter of this year and expected to be in operation in the 2nd quarter of 2013. The feed mill will employ about 150 workers.
New Hope is Chinese largest feed producers, with annual sales of around $8.8 billion, it operates agribusiness in China and abroad with more than 400 subsidiaries and over 80000 employees. They set up their first overseas plant in Vietnam in 1999, and have annouced that they plan to build a further 6 feed mills in Vietnam in the coming years.