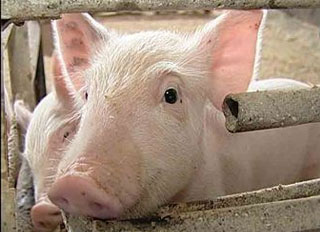 A new pig farm "Siberian Agrarian Group" will be built in Nizhnetavdinskoye district, Tyumen region.
An agreement on its construction was reached and signed by: the governor of the Tyumen region, Vladimir Yakushev; general director of "Pig Tyumen", Koba Gumberidze; and General Director of "JSC Siberian Agrarian Group", Andrew Tyutyushev.
The Agreement with the Government of the Tyumen region identified the main areas of cooperation between the parties in the implementation of the project. These include the construction of a pig farm, including a meat processing plant and a feed mill.
The total project cost is $4.5-5 billion rubles (USD$140-155 million).
The complex for breeding and fattening pigs is an industrial enterprise with a complete production cycle. It will consist of two pig farms with 4.8 million sows, each with a production capacity of 25 thousand tonnes of live weight per year. It is planned that by 2016 the number of pigs grow to 125 thousand.
The new project will create 700 permanent jobs.
To date, the group has acquired the 8 hectares of farmland, the property complex for storing and processing of crops has received state approval.
Construction is scheduled to begin in May 2014.