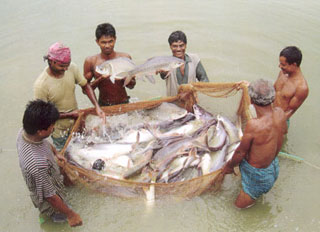 Bangladesh Bureau of Statistics (BBS) will conduct Fisheries and Livestock Census in the country next year, said a BBS official.
The decision was taken in a meeting at the director general's office in July this year following repeated demands from fisheries and livestock departments to obtain various information on livestock and fisheries species, production, employment, socio-economic condition of fishermen and livestock farmers and find out environment related issues.
Both Prime Minister Sheikh Hasina and Planning Minister AK Khandker have often emphasised on carrying out a census on fisheries and livestock sectors after the passage of the Statistics Act 2013.
The proposed census awaits the final approval, sources pointed out.
The official said BBS decided to carry out the census after both the departments, fisheries and livestock, felt an urgency to gather information on livestock, their feed, price of feed, raising arrangements, production and artificial breeding.
Data on socio-economic condition and nutrition of the people engaged in the sectors, employment in livestock sector, processing of livestock products, value addition and marketing, feed mill, poultry, hatchery, breeding farms, livestock healthcare, environment and social protection etc was also needed, BBS felt.
Information on rivers, fishermen, fishing areas, pond aquaculture, Sundarbans fisheries, beel fisheries, baor fisheries, creek aquaculture, seasonal fisheries, cage and pan aquaculture, haor fisheries, marine, floodplain and canal fisheries, aquatic products and fish markets and will be collected under this census.
Earlier in 1983, fisheries department conducted a frame survey. But no frame survey was ever conducted over the years due to shortage of resources. There will be two forms for the census - one short and another long - for the fisheries and livestock census to extract information. Prime indicators will be included in the short form while detailed information will be collected through its longer version.
The officials of the fisheries and livestock department said there is hardly any data on cow and bullock, meat, hide and quality and quantity of cow milk.
Besides, information is needed on the farming of koel bird, deer, crocodiles, camel, production enhancement related information, marine fisheries, shrimp production in coastal areas, information on Hilsha production in the context of rivers being grabbed resulting in decline in their production.