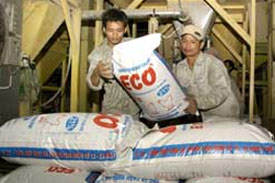 Hanoi, Vietnam -- For another time this month, Viet Nam's animal feed producers have sent registrations to the Ministry of Finance to increase prices, the ministry reported. The request is in response to the continued price hikes of raw materials.
This was the 15th time the ministry has received registrations since the beginning of 2010, they said.
Some companies have been asking to raise prices since late last week. Others have requested to raise prices starting May 1.
Le Ba Lich, chairman of the Viet Nam Animal Feed Association, said the price of corn is currently up from US$240 to $280 per tonne. Meanwhile, the price of Soya oil cake has risen from $420 to $450 per tonne.
Moreover, Lich added, dong devaluation had greatly affected the industry as the country imported 60 per cent of all raw material. For this reason, restructuring, cost cutting and strong co-operation among related stockholders had been the most important measures to help protect producers.
"Farmers have concentrated on producing animal feed while ignoring breeding, which is vital to stock-farming. A project may go as long as five years before being able to extensively market its products. But once it has been successful, the benefits created for customers and the local industry will be overwhelming, particularly when pig breeding in Viet Nam still remains unstable in terms of genetics and productivity," said Tran Ngoc Chi, CP GreenFeed Viet Nam CEO, while discussing what his company would do to help stabilise the market and support farmers in the long run.
Since September of 2009, animal feed has been listed as one of the products in need of price-stabilisation; the price has increased 23-fold. The large number of foreign companies investing in the local industry in recent years has made the animal feed market even more competitive.
More than 400 animal feed mills nationwide provide poultry and aquaculture feeds. Most of them are foreign or joint-venture companies.