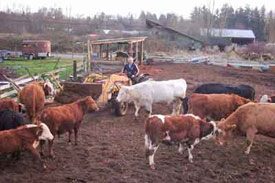 Vietnam - The livestock industry will strive to raise its production value by 7.5-8 per cent and increase the ratio of livestock production from 28 per cent to 30 per cent of the total agricultural output this year, an official said at a conference in HCM City yesterday.
The livestock industry aimed to produce 4.2-4.3 million tonnes of meat this year, an increase of 6.5 per cent over last year, said Hoang Kim Giao, director of the Department of Livestock Husbandry under the Ministry of Agriculture and Rural Development.
It also aimed to produce 6.5 billion eggs and 330,000 tonnes of milk, an increase of 9.5 per cent and 10 per cent, respectively, he said.
Giao said despite difficulties caused by diseases outbreak and climate change, total livestock output last year increased by 6.3 per cent from 2009, meeting the domestic demand.
Do Kim Tuyen of the Livestock Production Department said the livestock sector played a very important role in agriculture production in Viet Nam since more than 70 per cent of its population lived in rural areas.
However, the small-scale, scattered farms and outdated production techniques of the local livestock industry have led to high production costs, making the country's livestock products less competitive than that of other countries, Tuyen said.
In addition, the volatility in animal feed prices and high risk of disease had been also causing difficulties for animal breeders.
With an increase in population and living standards, demands for meat and milk products were expected to increase over the coming years, offering a bright outlook for the livestock industry, he said.
Giao said to achieve these targets and help the industry develop in a sustainable manner, the country must invest more in technology to modernise its animal husbandry and poultry sectors, shifting from household-based to industrial farming.
The sector needed to re-arrange its production system to ensure hygiene and safety in breeding and reduce diseases so as to improve productivity and quality, and protect the environment, he said.
In addition, the country's veterinary system should also be consolidated from central to local levels to control and reduce the risk of disease, Tuyen said.
The industry also needed to develop a master plan for building animal feed factories, slaughterhouses and meat processing plants with modern technology to raise the efficiency of the industrial operation, he said.
The Government should also have policies to encourage development of local sources of raw materials for animal feed production to reduce imports, he added.
Improving the quality of animal strains was also vital to the sector's development, Tuyen said.
To help local livestock breeders access latest technology and services, the Ministry of Agriculture and Rural Development will co-operate with Thailand-based Company N.C.C. Exhibition Organizer and VEAS Co Ltd to organise an international exhibition on the livestock, dairy, meat processing and aquaculture.
The exhibition – ILDEX Viet Nam 2012 – will take place from March 22-24 2012 at the new Sai Gon Exhibition and Convention Centre in HCM City's District 7.
Giao said the biennial event would provide visitors with the opportunity to evaluate innovative solutions that can help them improve cost efficiency and product quality, contributing to the development and integration into the international markets of Viet Nam's livestock and aquaculture industry.