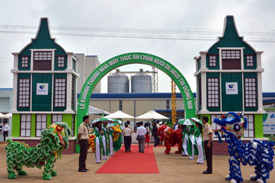 On the 18th June, Netherland feed producer De Heus held the inauguration of their 4th feed mill to open in Vietnam. The feed mill is De Heus' most modern line, with a production capacity of 300,000 tonnes per year. The feed plant is set to serve the fast growing markets of Central and Southern Vietnam
The plant which cost a total investment of 15 million USD, is De Heus' first 100% newly built plant, utilising the latest, modern equipment and technology. The feed mill is built on an area of 52,000 m2 in Dong Nai, and with a capcity of 300 thousand tonnes per year brings the total production capacity of De Heus factories in Vietnam to 600,000 tons per annum.
At the inauguration ceremony, General Director of De Heus LLC Vietnam, Gabor Fluit said, "We are very proud of our new factory. We are close to our customers and with this factory we can meet the growing need of our customers for quality animal feed."
This newest feed mill highlights the speedy development of De Heus in Vietnam, a market which the company has been active in for only three and a half years. The company hopes it will greatly help them in their aim to become one of the top 5 animal feed producers in the country soon.
The new plant which will mainly produce feed for pigs, poultry and cattle is fully compliant with ISO 22000 standards. A standard that De Heus is working to bring up all their feed mills. Their other feed production facilities include animal feed mills in Binh Duong and Hai Phong, along with a fish feed mill located in Vinh Long.