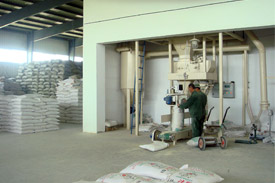 Two new feed plants have just been completed in the Central Chinese municipality of Chongqing.
Chongqing Kaizhou Animal Husbandry Technology Development Co., Ltd, have just completed the equipment installation and commissioning of their new feed mill, and it will soon be
put into trial operation.
It is understood that the feed plant will have a production capacity of 40,000 tons annually for the output of concentrated feed, 60,000 tons annually of complete feeds, and 20,000 tons of feed additive premix.
Chongqing Ke WangYou Zhi Co Ltd have also invested in building a feed mill with annual output 100,000 tons of concentrated feed and complete feed. The construction of feed production line and the installation of the feed milling equipment has just been completed, and the feed mill is enetering the commissioning stage and preparing for final tests before commercial production.
The 2 new feeed mills, equipped with large-scale capacities, advanced production equipment, process optimisation, and quality control measures, help to progress and modernize the feed industry in the municipality of Chongqing.