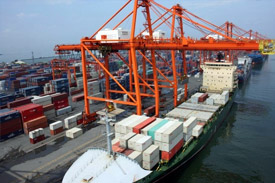 San Miguel Corp. are said to be in advanced negotiations to acquire Asian Terminals Inc (ATI). San Miguel's bid to buy Asian Terminals accompanies its decision to invest P2.5 billion in a bulk grains terminal in Mabini, Batangas.
In March this year Unit San Miguel Pure Foods Co. Inc. stated the planned terminal, which is in close proximity to 2 of it's flour mills in the state, was anticipated to be in operation before the last quarter of next year. San Miguel Pure Foods. said, "Because of the terminal's proximity to seaports, freight costs of the flour and feeds milling operations are expected to significantly decrease."
The planned Mabini terminal, even so won't be large enough to fill the growing requirements of San Miguel's feed, food and beverage businesses. Meaning the company is also required to reduce overheads in order to become more competitive.
Asian Terminals' assets will likely establish San Miguel as one of the largest port operators in the country. The company operates Manila South Harbor, the Port of Batangas and the Port of General Santos.
The grain terminal business in the Philippines, in the meantime, has become much more active with the flour and feed milling industry giants battling for control of every available local facility. With the latest acquisition of ATI it is clear that San Miguel has started the strategic positioning itself in order to maintain its dominance of the milling industry.