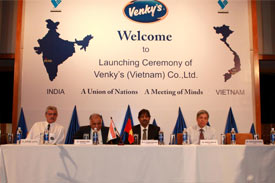 Bangladesh - In a bid to expand its global footprint, leading poultry solutions provider, the Venkateshwara Hatcheries (VH) Group, said it will set up a poultry feed manufacturing unit in Bangladesh.
This will be the company's second such overseas venture after Vietnam. The VH Group, that owns the well-known processed chicken Venky's, would set up a state-of-the-art poultry feed manufacturing unit at an initial investment of Rs 12 crore
"Our aim is to provide quality products and services at the door-step of poultry farmers. We would be setting up an aqua feed mill within the next six-months as a part of the group's diversification plans. This will entail an initial investment of Rs 12 crore," VH Group's Joint Managing Director, B Venkatesh Rao, said in a statement here.
The production capacity would be around 4,500 MT per month. The Group has also launched Venky's entire product portfolio in Bangladesh to provide the poultry farmers with high-quality, yet cost-effective products by making use of state-of-the-art Swiss technology.
"We provide total poultry support to farmers in the form of consistent monitoring of flocks and accurate diagnosis of poultry diseases.
The company has established a poultry diagnostic lab in Bangladesh and plans to set up a second lab in the next three-months. The services provided by these labs will be free of cost," Venky's Managing Director, B Balaji Rao, said.