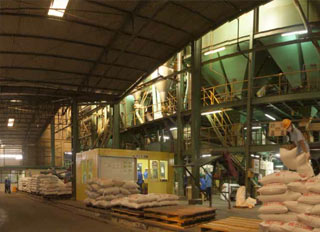 Indonesia's largest shrimp farmer and processor, Central Proteinaprima (CP Prima), will open its new aqua feedmill located in Lampung in the third quarter of this year.
The fully integrated company has seen large losses in its business since its 2009 outbreak of infectious myonecrosis virus (IMNV), and is currently in the process of restructuring debt.
Despite the drop in sales of shrimp however the company's feed business is doing well, with sales of fish and shrimp feed increasing 15.75% year-on-year, up to IDR 672.73bn (USD$67 million).
The new feed mill built at a cost of IDR 50-60 billion (USD$5-6 million), will have a capacity of 30,000 tonnes per year.
President Director of CP Prima, Mahar Sembiring said the company's current feed mills are at 100% utilization rate.
CP Prima currently operate 3 fish and shrimp feed mills, located in in Medan, Surabaya and Cikampek. The 3 feed mills have a with a total production capacity of 420,000 tonnes per year.
The company also plan to start the construction of another new aqua feedmill at the end of this year. This feed mill is budgeted at USD$ 6 million and is to be located in Sidoarjo, East Java.
Once the two new feed mills (Lampung & Sidoarjo) are finished, the company's total feed production capacity will rise to 480,000 tonnes per annum.