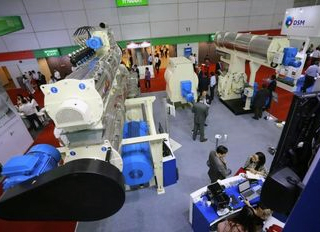 FIAAP/ VICTAM/ GRAPAS Asia 2016 opened today at BITEC in Bangkok to large crowds. Touting itself as Asia's largest feed, rice & grain processing event the show will run from 29 – 31 March.
The exhibition is well attended by major international industry suppliers in feed processing equipment including stands showing the latest technology from Buhler, Famsun, ZCME, Ottevanger, Andritz, van Aarsen, Wenger, CPM, Extru-Tech, Amandus Kahl, Dinnissen, Geelen, etc.
The FIAAP section of the event showcases companies in the animal feed ingredients and nutrition sector, attended by well-known international suppliers such as Biomin, DSM, Kemin, Sopropeche, Tyson, Special Nutrients, Arm & Hammer, Olmix, SPF Diana, Dr. Eckel, Cargill etc.
The list of exhibitors at the GRAPAS trade show, which specialises in rice milling, flour milling and grain processing, is also impressive. Once again the major international companies will be displaying their latest technology. These include – Satake, Buhler, Alapala, Brock, Cimbria, Kay Jay Rolls, Foss, Rueter, Petkus, Cimbria, Altuntas, Chief and more.
There is a lot to see over the three days of the show. There is not just specialist ingredients and processing technology but also many stands displaying the latest auxiliary systems and machines. There will bagging machines and bags, silos, conveyor systems, specialist formulation programs, elevators, dryers/de-humidifiers, elevators, buckets, and many more pieces of equipment that are so necessary in a mill or processing plant.
All set to take place at the event is the 2nd ASEAN Feed & Rice Summit which takes place in the afternoon of Wednesday 30th March on Level 2 of BITEC.
FeedMachinery.com are attending the show, so we will see you there!