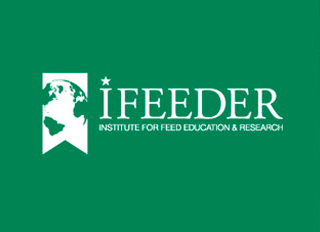 Two American Feed Industry Association member companies recently made generous donations to the Institute for Feed Education and Research (IFEEDER) to advance education and research within the feed industry.
The donations, collectively totaling $100,000, will help IFEEDER support critical research and education projects focused on meeting the challenges of sustainable feed and food production.
Balchem Corporation and DSM Nutritional Products, both leading animal health and nutrition companies, donated $50,000 each to the nonprofit, lifting them to the corporate gold level donation status. The companies were recognized during a check signing ceremony recently with IFEEDER Executive Director Ken Thomas.
"At DSM, we are passionate about education and research within the industry, which are objectives recognized by IFEEDER," said Marc de Beer, DSM senior director. "Unfortunately, there is a lot of miscommunicated information about the industry out there and DSM hopes our donation will help to produce and disseminate accurate content."
DSM is a manufacturer of vitamins, carotenoids, enzymes and premixes for animal feed.
"Communicating within the industry is easy. That's the lower-hanging fruit," said de Beer. "We have a difficult time communicating what a fantastic job has been done providing safe, affordable food to those outside the industry. Hopefully, with the help of IFEEDER, we will find ways to reach out to people who may otherwise be misinformed."
Representatives from Balchem, a global leader in choline, encapsulated ingredients and chelated minerals for animal nutrition, agree, stating there needs to be one clear, concise voice for the industry in order to positively and accurately communicate information. They believe IFEEDER should be recognized as that voice.
"IFEEDER will help to fill a void by providing timely, quality information, and there has been a void for far too long," said Jonathan Griffin, global director of Balchem's ruminant business.
Translation of industry research into a compelling message is one of IFEEDER's core objectives and is also an important factor for why science-based companies donate.
"As an industry, we are focused on the science. As scientists, we are good at improving the science, but not so good at conveying the story. We have a great story, we just need help telling it," said Scott Sorrell, Balchem's director of global marketing.
IFEEDER was created in 2009 to address the enormous challenges our U.S. food and feed production industries will face in the next 40 years and beyond, as the world's population grows by almost 2.5 billion people.
IFEEDER recently contributed $100,000 toward PEDv research and also sponsored the 2013 Council for Agricultural Science and Technology report, "Animal Feed vs. Human Food: Challenges in Sustaining Animal Agriculture Toward 2050."