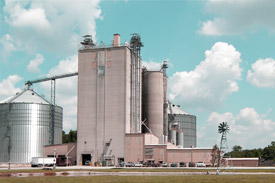 Last week it was announced that the 6th International Feed Regulators Meeting (IFRM), would be held in Africa for the first time.
The meeting organised by International Feed Industry Federation (IFIF) in cooperation with UN FAO, is scheduled to be held in Sun City, South Africa on April the 9th, 2013. The meeting will proceed the 4th Global Feed and Food Congress being held at the same venue.
The IFRM offers a chance for regulators and feed industry professionals from around the world to exchange ideas and discuss solid proposals for providing safe and affordable feed worldwide.
IFIF Chairman, Mario Sergio Cutait said "IFIF is delighted to invite regulators from around the world to South Africa and the IFRM really has become a unique opportunity for industry and regulators to discuss key issues for the feed and food chain, such as the harmonization of global feed safety standards and opportunities for mutual recognition of approval processes." He further stated "We are particularly excited that the IFRM will be held on the African Continent for the first time just ahead of the Global Feed and Food Congress (GFFC), and we look forward to welcoming regulators from around the world to Sun City, South Africa."
A range of issues will be discussed at the event including the ad hoc Intergovernmental Codex Task Force on Animal Feeding (TF AF), discussions relating to the technical barriers in the international trade of feed, updates on the advancement of redesigning the US and Canadian feed ingredient approval process, and the presentation of the IFIF 'Comparison of Approval Process and Risk-Assessment procedure for Feed Ingredients' project.
Government feed regulators can attend the meeting free of charge with participation at the IFRM by invitation only. Should you be interested in attending and taking part in the IFRM please contact Executive Director Alexandra de Athayde at executive.director@ifif.org.
All professionals from the food and feed industries are invited to join. To obtain additional information for the event and register for the GFFC, please visit their website: www.gffc2013.com.