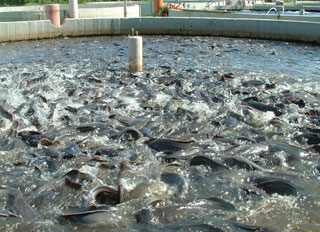 The Delta State Government have said construction work on four fish feed plants was ongoing. The project is expected to cost N550 Million naira (USD$3.4 million) for the construction of the four aquafeed plants.
Commissioner for Commerce and Industry, Kingsley Emu, said that the fish feed plants, would help ensure a sufficient supply of aquafeed to the state's fish farmers, helping to boost fish production.
"The production output of each facility is 600kg per hour of feed packaged in 15 kg bags. The equipment according to the manufacturers can work 24 hours with two shifts of 12 hours each", he said. Four feed mills together would have a total capacity to produce about 691,200 bags of pelletized fish feed per annum.
The four fish feed mills which are Ubeji/Egbokodo Fish Feed Limited, Ika Fish Feed Limited, Asaba Fish Feed Limited and Uvwie Fish Feed Limited are part of the 10 industries to be established by the state government.
After they are built the feed plants will be handed over to the private sector for efficient management.
Dr. Emu added that fish feed processing plants had become necessary as many fish farmers in the state were involved in large scale farming, and feed supply at the moment was no sufficient.
The state government will soon set up 22 commodity boards to help ensure proper marketing of local produced agricultural produce in the state. Cassava processing plants will also be setup in the state.
"All these are in line with this administration's vision of 'Delta beyond oil,' which is aimed at diversifying the economy of the state. "Delta State has realised that agriculture is the mainstay of the economy and that it can be complemented by oil," Dr. Emu said.
He finished by saying the Deltastate government was partnering with the private sector in organising this year's trade fair in an effort to make more successful than previous fairs.