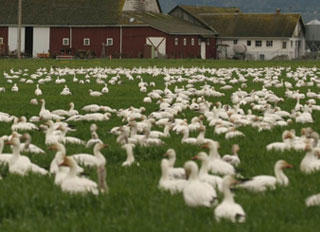 An investment project for the raising, slaughtering and processing of goose for meat has been launched in the Kurgan region.
The project which will have a production capacity of 15 thousand tonnes per year, was approved by the provincial Department of Agriculture and Food Industry.
According to the director of the department, Sergey Zhdanov, in the agreement that was reached between the Government of Kurgan Oblast and the Scientific and Production Association projects for the production and sale of goose meat will be constructed in the Safakulevskom and Shumikhinskaya areas.
Zhdanov said that a poultry breeding facility was currently being in the Safakulevskom area, with there already being a working incubator area.
"This year, the company has incubated more than 25 thousand eggs and sold 10 thousand to the public, has 10 thousand in rearing," Zhdanov said.
In the Shumikhinskaya area, construction of a feed mill has begun, with construction for a complex for fattening geese planned to commence sometime next year.
The main objective of this goose project is to create conditions for sustainable development in rural areas, and to substitute the importation of goose meat and eggs with domestically produced product.
The project is expected to create jobs for the rural area, and train highly qualified personnel to work at the enterprises of the complex.