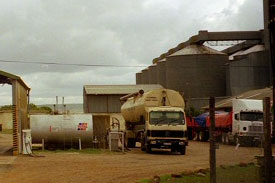 South Africa -- International feed producers De Heus have announced the acquisition of South African company Tuinroete Agri's animal feed operations. The acquisition which includes the production location at Kleinberg, is subject to conditions precedent which, if fulfilled, will result in a conclusive sale with a target transition date of 1 May 2011.
The animal feed operations of Tuinroete Agri, which are currently taking place at the locations Riversdale and Kleinberg will be consolidated by De Heus to the Kleinberg production site after the transition date. "Tuinroete Agri is excited about the prospect of De Heus being an international and independent player, competing in the local Southern Cape market benefiting both livestock and grain farmers" according to Jan Weys, Managing director of Tuinroete Agri ".
Tuinroete Agri essentially supplies agricultural requisites through its 20 outlets in the Southern and Eastern Cape of South Africa. This region stretches from the town Riversdale in the West to the town Jeffreys Bay in the east and from the town Aberdeen in the north to the town Mossel Bay & George in the south. The main product categories are animal feeds, irrigation, fencing, veterinarian, packaging, fertilizers & crop protection. The group was formed in 1932, has grown to an annual turnover of some R500 million and currently employs 420 people.
The acquisition of Tuinroete Agri's animal feed operations, fits in with De Heus' growth strategy of establishing a strong local presence, as well as growth in the South African market. Which has been highlighted for it's high agricultural potential and the pportunities the market offers.
Key components in the De Heus strategy include private ownership, maintaining a truly independent position in the food chain and a strong focus on the production of quality animal feeds. Koos Kooy, CEO of De Heus South Africa explained: "With this new acquisition De Heus is a step closer to achieving its goal to become a national player in the animal feed industry within South Africa."
This new acquisition will have immediate and longer term benefits from the involvement of the De Heus Group in local areas of nutritional know how, R & D, technology, marketing and management. The Kleinberg location will become the fourth feed mill for De Heus in South Africa since their first investment in South Africa in 2008. Other feed mills are located in Umlaas Road (with Head Office) in the Kwa-Zulu Natal province, Klerksdorp in the North West province and Modimolle in the Limpopo province.