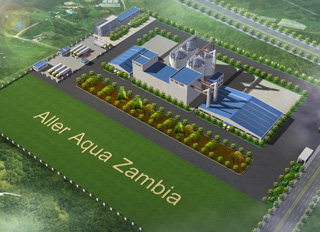 A new USD$10 million fish feed mill plant is to be constructed in Siavonga district, Zambia. The feed plant which will be the biggest in Sub-Saharan Africa is being spearheaded by a Danish Company Aller Aqua.
He says construction will start in April 2016, and is expected to finish by mid-2017.
Aller Aqua has partnered with Yalelo Limited as a key client. Yalelo has grown quickly to become one of the world's leading tilapia aquaculture firms. Alongside the construction of Aller Aqua's Zambian fish feed factory, Yalelo has commenced an expansion project to increase production to 20.000-30.000 tonnes of Tilapia within the next few years.
The new company and factory will be called Aller Aqua Zambia Limited, and will be the largest and most modern of its kind in Africa. It will have a capacity of 50.000 tons of feed per year, and the investment is approximately 10 million USD, explains Henrik Halken, Group Vice President, who is responsible for the company's activities on the African continent.
Both companies see great prospects in the collaboration. It will ensure Yalelo access to the best feed on the market – and thus enable the company's continued growth.
To Aller Aqua Group, Yalelo's offtake provides commercial security. This enables a larger initial investment in building a world-class fish feed factory from inception.
The fish feed factory gives Aller Aqua a great basis for expansion in Zambia, a country which aims to be self-sufficient with farmed fish – but also able to export to neighboring countries such as: Angola, Zimbabwe, Mozambique, Botswana, Namibia, Malawi, Tanzania and Congo.
"The factory will be situated near the town Siavonga, on the shore of Lake Kariba, and is expected to be ready mid-2017, provided that the final commitments and permits are given from various authorities and institutions as expected" says Henrik Halken.
Demand for affordable protein is growing quickly in Africa, which is one of the world's fastest growing regions by both population and income. Aquaculture is expected to play a significant role in African food security and lakes such as Kariba, Victoria and Volta offer high potential.
Today half of the fish consumed worldwide are farmed. Fish farming is the most efficient and environmentally friendly way of producing protein for a growing population.
"With the great potential in Africa it is important that we are present. Aller Aqua needs to make the most of the momentum we have created over the last few years. We have experienced significant growth in Egypt in 2015 and created two new sales subsidiaries in both Kenya and Nigeria, both of which contribute positively to the company's growth. The feed for these two markets comes from our European factories and contribute positively here. In Zambia and the region we plan to replicate our experience of supporting smallholder fish farmers through training in the use of more efficient commercial fish feeds.
With the new factory in Zambia Aller Aqua Group will consolidate its position as the largest producer of environmentally friendlyextruded fish feed in Africa" states Henrik Halken.