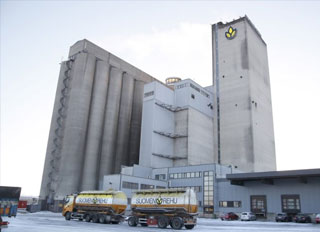 Hankkija Oy and Suomen Teollisuuden Energiapalvelut - STEP Oy have signed an agreement on energy production and construction of a new bio steam boiler plant at Hankkija Oy's feed plant in Seinäjoki.
The new 2.5 MW steam boiler plant will produce the approximately 12,500 MWh of energy required by Hankkija from January 2015 onwards. As its fuel, the new steam boiler plant will utilise oat husk and grain dust left over from the Hankkija feed plant, as well as local biofuels consisting mostly of wood chips. Thus the new steam boiler plant will replace the use of heavy fuel oil in the production of energy at the plant.
- Production Director Jari Sivunen from Hankkija sees great advantages with the investment, as Hankkija's feed plant in Seinäjoki consumes a significant amount of steam. Currently, the steam energy needed by the plant is produced with heavy fuel oil, and the by-products generated at the plant are delivered for use as energy at other installations. We're happy we will be able to use the by-products as our own energy in the future and can do away with using heavy fuel oil. It is really important for us to use domestic, renewable energy that also provides work in the region. The crucial elements in this investment decision were precisely the use of our own plant's by-products and the fuel diversity of the boiler plant.
- STEP's partnership agreements combine reliable, environmentally friendly technical solutions and a contract structure that is safe for the customer and adapts to changing circumstances. STEP's operations have expanded quickly, especially in the Ostrobothnia region, thanks to strong interest shown in the company. We saw rapid growth in 2013, and STEP's customer-oriented model for partnership agreements has resulted in several long-term steam and heat delivery contracts in the past few months, Managing Director Tomi Ihalainen says, satisfied with recent progress.
The project implemented at the Hankkija plant will entail a significant reduction in greenhouse gas emissions. Every year, approximately 30 fewer trucks carrying heavy fuel oil will arrive at the plant after the installation has been completed. Oat husk is a challenging fuel that requires a special technique, which will be invested in by the partners in this project. The surplus fuel from the Hankkija plant will not be sufficient to cover all needs, and supplementary biofuel will be purchased in the Ostrobothnia region. Hankkija's new bio steam plant has been designed to be largely implemented by local operators. Most of the contractors will be from the surrounding areas.
Hankkija Oy is the leading Finnish agricultural and machinery retailer, and the largest manufacturer of industrial feedstuffs in Finland. Hankkija's largest feed plant, called Suomen Rehu, is located in Seinäjoki, the other feed plants are situated in Turku, Kotka and Säkylä. Hankkija is a joint enterprise owned by the DLA Group (60%) and SOK (40%).
Suomen Teollisuuden Energiapalvelut - STEP Oy provides sustainable energy solutions for industrial customers through the principles of partnership. Customer needs, energy efficiency and tailored solutions are key focus areas in all of the energy solutions offered, which combine local and international expertise. STEP is a joint enterprise owned by Pori Energia (66%) and Dalkia (34%).