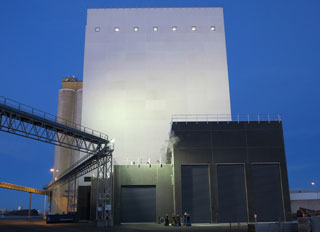 Swedish agricultural co-op Kalmar Lantmän will inaugurate its new feed mill on April 11th. The feed mill, one's of Europe's most modern feed mills, will replace the two current feed mills the co-op has been operating.
The feed mill will be inaugurated by HRH Prince Carl Philip, with Kalmar Lantmäns CEO Claes-Göran Nilsson making the inauguration speech.
First announced by the co-op in 2009, construction on the feed mill finally commenced in February 2012. The decision to build a new feed mill was taken, after expected necessary increases in production in the future would have cost more than building new.
The new feed mill use the latest state of the art equipment, and should help reduce odour levels that some locals had complained about for the old feed mills.
The feed mill was built at a cost of 400-450 million kroner, and will have a production capacity of 400 000 tonnes of feed per year.
Construction of the new feed mill finished earlier this year, followed by the installation and training of employees involved in feed production. Test runs on the plant were conducted last month.
The inauguration of the new feed mill will take place April 11, 2014 at 12:00 noon at Tjärhovet, Kalmar port. The ceremony is invite only, media are welcome to attend the opening ceremony with pre-registration.
Kalmar Lantmän is a cooperative whose main tasks are to provide members with seed, fertiliser, crop protection and animal feed and to receive, store, process and sell it as farmers grow. Sales and service of machinery for agriculture and forestry as well as an extensive store operations are other important parts of our business.