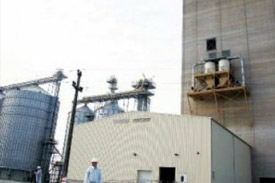 Transavia, Romanian poultry producer and processor, has finished the expansion and uprade of its feed production facility located in Sântimbru, Alba County, Romania.The expansion has been completed, at a cost of EUR 4 million and has seen storage capacity at the facility doubled to 72,000 tonnes with the construction of 6 new storage silos, to bring the current total up to 15 silos.
"The investment at Sântimbru continues our strategy to integrate the vegetal division into the overall activities of the Transavia group," said John Popa, Transavia CEO. He continued, "It will bring about a considerable increase in food quality and safety for products produced at the facility, to the benefit of Romanian consumers."
"Following the set up of the two vegetal farms in Cluj and Alba counties, this investment became a necessity so that the storage of the cereals used to feed the chickens can be done in the best conditions," he said.
In addition to expanding storage capacity, the company also expanded it's feed production line, bringing up total output capacity to 30 tonnes per hour, or 250,000 tonnes of feed per year.
The upgrade of the feed processing and grain storage capacity, came at a total investment of EUR 4 million, part of a EUR 15 million budget allocated to the company in 2011 to enable them to maintain the growth of their business and expand into new areas.