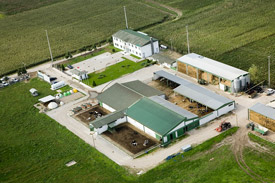 Sütaş, Turkey's top producers of milk and milk products, has chosen Macedonia as the site of its first facility to be located outside of Turkey.
The firm has acquired a milk processing plant from Swedmilk, located in Skopje, the Macedoniancapital. Sütaş anticipates to begin production in its inaugural overseas plant before this fall. On signing of the agreement, Muharrem Yılmaz, Sütaş Group President said that with the new Skopje facility, they planned to extend their business to surrounding Balkan markets i.e. Albania, Kosovo and other European countries.
Yılmaz stated, "We have defined a new strategy to position our production facilities close to our target markets.:
The new plant is expected to first produce yoghurt, ayran and cheese products, and have a yearly processing capacity of 70 million litres of milk. Yılmaz said this capacity could grow to 175 million litres with the entry of new Sütaş products to European markets in the following few years.
The company has also contemplated expanding their presence in Macedonia with a farm, feed mill and a recycling plant, the firm's group president said.