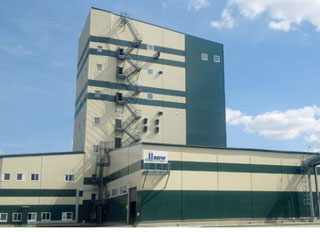 Russian co-op AgroPromkomplektatsiya (APK) are looking to nearly double feed production at their Dmitrogorsky feed mill, increasing production from 8 tonnes per hour (160 tonnes per day) up to 15 tonnes per hour (300 tonnes per day).
The group of companies recently recieved a working visit from a group of experts from Russian feed machinery manufacturers and engineering company Technex. The objective of the visit was to acquaint them with the Dmitrogorsky feed mill, learn of the existing technology, and to train the companies for the feed mill reconstruction.
Talks were held on a range of issues, including those relating to the planning of works, drawings, and conjugation of the new equipment with the current.
Director of the APK branch, Sergei Khudyakov, said "the reconstruction of the plant involves the partial replacement of existing equipment to improve performance to up to 15 tonnes of feed per hour or 300 tonnes per day. Currently, the production of the plant is 8 tonnes per hour or 160 tonnes per day. Representing an expected growth of 80%."
As well as upgrading the feed mill, Technex will construct next to the feed mill, an elevator for the receiving, cleaning and drying of grain. The grain elevator will have a production capacity to 50 tonnes per hour (dryer).
The Dmitrogorsky feed mill was built in 2008, as well as the feed mill, silos were also built with a total storage capacity of 20,000 tonnes of grain.