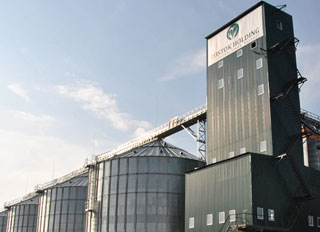 Rostok Holding, plans to increase it's grain storage capacities up to 150,000 tonnes by 2015. A grain elevator and feed fodder plant are also included in the company's expansion plans.
The company, a Ukraine based vertically integrated agro industrial group, specializes in the cultivation and sale of crops, production, processing and sale of dairy products.
In 2003 it invested in its first fodder plant. The plant, Kombikormschik LLC fodder mill, acted to strengthen the vertical integration of the company.
In addition to the increase in grain storage, the group plans to increase the capacity of it's grain elevators to 80 million tonnes.
The group completed construction of the 1st stage of its 25,000 tonnes grain elevator located in Ichnya town, Chernigiv region. The construction was carried on the basis of the feed mill owned by the Group, the design capacity of elevator will reach 35k tons in 2013.
The co-Launch of the new 20,000 tonnes - 1st stage grain elevator located in Glukhiv town, Sumy region. The design capacity of this elevator will reach 80k tons in 2015.
A breakdown of the company's feed usage in 2012 revealed the company sourced 35% of their dairy cattle feed from 3rd parties, while the remaining 65% was produced in-house at their oen feed fodder plant.