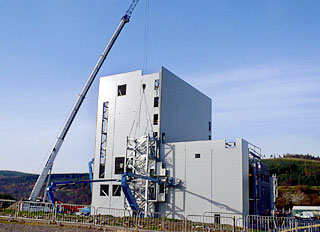 Helius Energy last week opened its new biomass CHP plant in Rothes, Speyside, Scotland. The plant utilizes by-products from nearby malt whiskey distilleries, and turns it into clean energy and animal feed.
The bioenergy plant will generate 8.32MW of electricity, which is enough to power 9,000 homes, most of which will be exported into the national grid.
The animal feed protein supplement the plant produces is in the form of pot ale syrup. Pot ale syrup is the evaporated co-product from the first distillation stage in the production of malt whisky. It comprises a rich blend of proteins, carbohydrates and yeast residues which provide a highly palatable and nutritious feed for all class of farm livestock.
Construction of the plant began in 2011 and cost a total of £60.5 million.