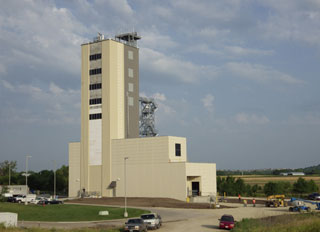 The newly completed USD$12.3 million, design-build, O.H. Kruse Feed Technology Innovation Centre at Kansas State University, built by McCownGordon Construction, was dedicated last Friday.
The Centre, a joint project of the Department of Grain Science and Industry and the Department of Animal Science and Industry, is one of K-State's top priorities as it works to become a top 50 public research university by 2025. Treanor Architects designed the building.
Chief Operating Officer at McCownGordon Construction, Ramin Cherafat, said "We feel privileged to have been chosen to build this cutting-edge Centre that will have a lasting impact on the feed industry not only in our nation, but on an international scale." .
The Kruse Family of Goshen, Calif. provided the lead gift of USD$2 million to honour the company founder O.H. Kruse, who was a strong believer in the importance of education in preparing the next generation of feed industry professionals. Additional funds came from the State of Kansas, the Kansas Bioscience Authority, Kansas State University and K-State's College of Agricultural Experiment Station, which provided in total $10 million in funding required for the new facility.
"The Feed Technology Innovation Centre will greatly benefit not only the industry, but our students and faculty as well. It is critical for our future success," said Dirk Maier, Professor and Head of the Department of Grain Science and Industry and Director of the International Grains Program.
The building will permit production of all necessary research needs for the Department of Animal Science on its research farms, and will offer contract and graduate level research and related teaching.
"The design of this building makes it unique and allow us to meet the educational needs for the future of the feed industry," Maier said.
In building the feed mill, focus was placed on flexibility to accommodate new equipment and prototypes as they are being developed for current and future students. A smaller research feed mill area is embedded in the facility, providing more opportunities for students and scientists to conduct feed safety research.
This facility can accommodate any type of processing research and data acquisition that is needed, from an industrial client to a university scientist using the new facility.