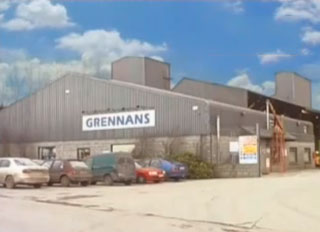 Simon Coveney T.D., Minister for Agriculture, Food and the Marine, opened the new expansion to J Grennan & Sons' animal feed compounding mill on the 18th of July.
J Grennan & Sons a family owned company operates the feed mill at Rath Co., Offaly.
The new expansion was built at a cost of €6m (~USD$7.9 million), and will allow the business to almost double its
production capacity of 100,000 tonnes per annum, while at the same time allow the company to produce high quality pelleted feeds for the dairy, beef and sheep.
Speaking at the opening the Minister for Agriculture, Food and the Marine said "This is a very significant initiative for the farming and food sector in the Midlands and this investment by Grennans will play an important role in maximising farm output in the livestock sector which will contribute to achieving the targets set out in Food Harvest 2020."
Managing director of J Grennan & Sons, John Grennan, speaking at the opening of the feed mill expansion said, "This is an historic day for the business. It represents the culmination of many years' work and will give us a platform to build for the future."
"We are a customer driven company. And that means putting the needs of farmers first at all times. There is every expectation that Irish agriculture and food is about to enter a period of sustained growth. In order to maximise these opportunities, farm businesses must become efficiency driven. Our recent investment programme has been undertaken to ensure that producers can achieve these objectives in the most cost effective way possible."
Grennan stated that the new pelleting plant would open new opportunities for the company in the dairy and other ruminant sectors. He said "We are totally committed to manufacturing rations of the highest quality, which is backed up by a comprehensive advisory and technical support service."
Grennan concludedhis speech at the opening saying, "The growth that we have achieved over recent years reflects the total commitment of everyone working within the business. It really has been a team effort and I would like to thank everyone involved for the tremendous work they have put in. Agri food has a bright future. And J Grennan and Sons is keen to be at the very heart of these developments."