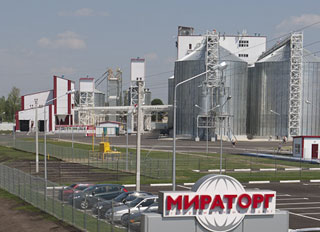 Russian agricultural holding Miratorg has launched a new production line which will produce 15,000 tonnes per year of feed enriched with the several types of amino acids, according to the company.
The production of this line will go to meet the demand of the poultry stock of the company in the Bryansk Region. Where the agricultural holding currently has the capacity for the production of about 100,000 tonnes of poultry in live weight per year.
This is Miratorg's first line for the production of amino acids-enriched feed and one of the first of such productions in Russia. Currently only about 3-4% of all feed produced in the country is enriched with amino acids, experts suggest.
According to the representatives of the company the feed rich with essential amino acids is non-granulated and made from wheat, corn and barley. In diets of birds it provides high productivity and improves the conversion of feed.
"Our feed is produced with the most up-to-date equipment, and using natural eco-friendly raw materials. Grain feed enriched with amino acids is a valuable supplement to the diets of the birds. It not only provides its health and growth, but also increases the cost-effectiveness of the whole poultry production project. Thanks to its high caloric value, birds get the necessary energy for growth, consuming less feed," said Nikolai Misyura, general director of 'Bryansk Broiler' poultry producing division of Miratorg.