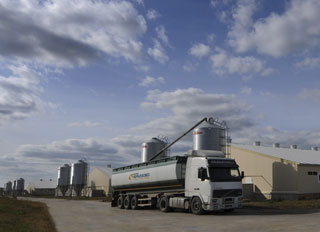 Cherkizovo Group (LSE: CHE), Russia's largest meat and fodder producer, has announced the acquisition of LISKO Broiler, a poultry producer in the Voronezh Region in Southern Russia. The acquisition will make Cherkizovo Group the country's largest poultry producer, with production capacity exceeding half a million tonnes live weight per year.* APK Mikhailovsky LLC, which is a part of the Cherkizovo Group, acted as a buyer. The deal was approved by the Federal Antimonopoly Service.
LISKO Broiler is the largest poultry producer in the Voronezh Region and one of the market leaders in the Central and Southern Federal Districts. Based on Russian Poultry Union data, LISKO ranks seventh among top poultry producers with a 2% nationwide market share. Its production capacity is approximately 95,000 tonnes (live weight) per year.
LISKO's full-cycle production assets that will be integrated to Cherkizovo Group include:
- 7 poultry production facilities;
- 4 parent flock sites with a slaughtering facility of 4000 heads per hour;
- 2 reproduction flock sites;
- Slaughtering complex with capacity of 9000 heads per hour;
- Hatchery with capacity of 80 million eggs per year;
- Feed mill with 40 tonnes per hour capacity;
- Grain storage facility with overall storage capacity of 100,000 tonnes;
- Meat and bone meal production facility;
- Rendering facility
It is worth mentioning that all LISKO production facilities are built in accordance with modern standards and are highly efficient.
"We have made a major step towards market leadership, which is in line with our long-term strategy combining organic growth and M&A. Acquisition of LISKO not only gives us strategic advantages, such as increasing the scale of our business and access to Southern Russian markets, including a synergy effect that we will feel even in the first year of integration. LISKO's facilities are located in Voronezh Region, where Cherkizovo has a land bank, and this gives us an opportunity to build a vertical integration chain. Leveraging on Cherkizovo's distribution capabilities will help to increase market access for LISKO's products and save on logistics. We have acquired a quality asset at a price below the replacement value, and I am sure this deal will be beneficial for both our shareholders and customers", Cherkizovo CEO Sergei Mikhailov said in commenting on the deal.
Terms of the Deal:
The deal is based on an enterprise value of approximately RUR 5 billion for LISKO Broiler, including debt. Cherkizovo Group will assume the acquired company's debt; equity will be financed through the company's own funds. The deal was made at a 4.8 EV/EBITDA ratio, based on the 2014 earnings forecast.*
Sberbank CIB acted as the financial advisor for Cherkizovo Group. Due diligence was carried out by Ernst and Young and Hannes Snellman. Hannes Snellman acted as legal consultants on the deal.