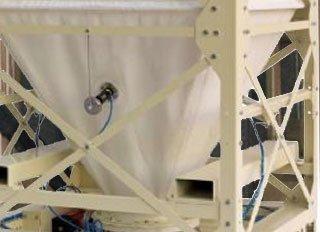 KSE Process Technology, Dutch manufacturers and suppliers of dosing and weighing machines, automation and services, have just launched a special system for the automatic filling of storage silos. The system utilises containers, avoiding contamination from occuring during transportation.
The Alfra Silo Filling Unit (SFU), which is fully automatic, fills complete silo-deck using transport containers. The system consists of a movable shuttle, which can move both from left to right and from the back to the front in order to position above the right silo and to directly discharge into the right silo. Each container can transport up to 5,000 liters of raw materials or finished products.
An option on the unit is a lid lifter which is capable of taking the lid of a chosen silo so that the container can directly discharge into it. Also effective dust extraction and diverting retour air is also possible with this advanced system.
The Silo Filling Unit is part of thethe Automatic Container Transport system (ACT). A proven technology for contaminatiearm transport, making use of containers. The system can be used for the entire production process, or parts thereof, and operates fully automatically.
Alfra is one of the leading manufacturers of dosing and weighing machines with over 75 years in the business.