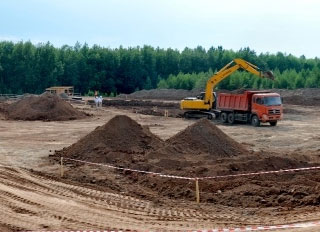 Preperations for the construction of a feed plant had commenced in the Kinel-Cherkassy region. The feed mill is to be built in the rural settlement of Kabanovka Kinel-Cherkassy region.
Work is being conducted by European Biological Technology LLC, which coordinating the creation of a modern complex for the production and processing of poultry meat in the Sergius area.
The feed mill will supply its Sergius poultry farm, and similar enterprises located in Podbelskie and Krotovka in the future.
Current work taking place at present includes the dismantling of the old building elevator, and earthworks in preparation for the foundation pit.
Once this step is completed, they will begin laying the foundations of the feed mill. Part of the building material from the old elevator will reused in the construction of the plant, with the remainder sent to dumping roads and dams.
The plant will create about 250 new jobs. According to the head of the rural settlement Kabanovka Yuri Sharonova hardly around the settlement, which includes the village Kabanovka, Bogorodskoe and Sarbay, there are so many idle hands, so Kabanovka become a center of attraction for those who want to work in the factory. At the same time the head of the territory of the hopes that they would return the settlement residents who are forced to commute to the city.
The land for the feed mill was acquired by European Biological Technology LLC in its take over of Kabanovke elevator, which formerly belonged to SV-Quadro.