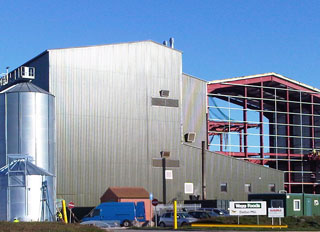 British material processing and handling engineering firm, GAME Engineering saw record growth in 2013 after securing a number of large projects.
The company stated that they were looking forward to building on this foundation to drive new projects for the year ahead and to progress in 2014.
Performing particularly successfully for the year was the process department, which secured a number of large projects including with leading pet food manufacturer Wagg Foods Ltd, Associated British Ports' (ABP), and The University of Nottingham.
Following the continued growth throughout the year, the leading UK Process Engineering company welcomed a total of 21 new staff to the Process, Security and Manufacturing and Installation departments and now employs a total of over 70 members of staff, based in Lincoln, East Midlands.
The company has expanded considerably since it was founded over 25 years ago in 1986. GAME originally started out as Grain and Milling Equipment (GAME) at offices in North Scarle before moving premises to Witham St Hughs in 1990, after purchasing a six acre site in 1989 and building bespoke offices and a factory.
GAME initially specialised in the resale, installation and re-conditioning of second hand feed milling equipment, and progressed rapidly within 10 years to become specialists within the animal feed and grain industries.
Since these early beginnings, the company has evolved to focus on design, manufacturing and installation projects within core sectors including, Pet Food, Animal Feed, Biomass Handling & Fuel Generation, Grain & Seed and Waste Recycling.
The company also produces custodial fabrications and high security steelwork. In 1999 GAME received prison approval through the Ministry of Justice and the Custodial Department was created in 2000.
With some positive predictions in respect of manufacturing growth for 2014, the EEF (Engineering Employers Federation) is forecasting that the sector will grow by 2.7% in 2014 compared to 2.4% for the economy overall, GAME is looking forward to a productive year ahead.
Founded in 1986, the company employs over 70 staff and provides expertise in the areas of Pet Food, Animal Feed, Biomass Handling & Fuel Generation, Grain & Seed and Waste Recycling. GAME also provide turnkey design and plant solutions and produce a range of bulk handling equipment. GAME also act as official distributors for the specialist bin supplier SCE, Silo Construction Engineering Limited of Belgium.