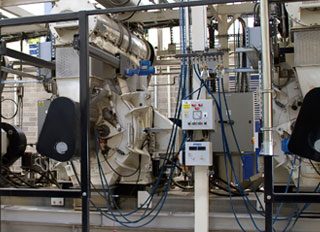 Andritz AG has just published their financial results and report for the third quarter of 2013. In it's separation business, animal feed machinery was expected to be continue at a solid level, while the outlook for biomass pelleting was that demand for the biomass machinery and systems would remain good.
The separation business area comprises of: solid/liquid separation equipment; systems and equipment for production of animal feed pellets; and biomass machinery. The sector accounts for 10% of Andritz's total order intake.
The report showed that in the first three quarters of the year that activity in the animal feed industry was good. This was particularly the case in the Asian, South American, and European markets, as demand for mill expansion projects and new greenfield plants was good. The special feed area (aquatic feed and pet food production) was assessed as showing reasonable project activity for the company in Asia, Eastern and Western Europe, and South America.
In the animal feed production area, Andritz secured several orders for new feed production lines from buyers in Asia, South America, and Europe.
Amongst numerous orders for fish feed extrusion lines, Andritz secured an order to deliver high-capacity extrusion technology to a Chinese fish feed manufacturer as well as an order for a fish feed extrusion line for marine species from a customer in the Mediterranean region.
Orders for pet food extrusion lines were received from South America and Europe.