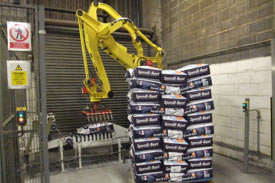 For some years now, many UK manufacturers have lagged behind the rest of the world when it comes to the adoption of automation. Not so for premier animal feedstuffs manufacturer, I'Anson Bros Ltd, who has bucked the trend with the recent installation of Pacepacker bagging and robotic palletising equipment which has virtually eliminated sack wastage, reduced packing staff by 40% and assisted the company's growth, which now outputs 2 million sacks of animal feed per year.
I'Anson's North Yorkshire automated production plant manufactures and packs 50,000 tonnes of farm feeds, Micronized ingredients for feed manufacturers and horse feeds a year.
"Our portfolio of products is packed into four different bag sizes weighing between 15-25 kgs and sold to 28 countries worldwide. In recent years, we have found that consistent, high quality pack presentation has become increasingly important to our customers, and we have looked to Pacepacker to provide new technological advances in bag handling and palletising to give us greater consistency in how a bag was stitched, where the label was positioned, and ultimately how the sack was stacked on a pallet." comments Chairman and fourth family generation owner Chris I'Anson.
Over the last 5 years I'Anson have steadily introduced new bagging and palletising lines to achieve premium pack presentation and in doing so have enjoyed a multitude of other benefits that fully automated modern technology brings. Three recently installed Pacepacker Total Bag Control Systems now provide I'Anson with superior product presentation and eliminate virtually all bag waste. "Due to an increase in the price of paper and oil over the last 10 years, packaging prices have risen considerably and our sack wastage amounted to around £10,000 per year. With the introduction of Pacepacker's new Total Bag Control System we have been able to virtually eliminate sack waste and totally eliminate customer complaints regarding product presentation," says Chris.
Pacepacker have overcome the problem of heat sealing or stitching difficult to handle sacks with a system which supports and guides the bag throughout the process so that a perfect seal is achieved every time, the Total Bag Control System. The system's motorised grip arms move around the bag as it is released from the spout clamp, where a pair of fingers either stretch or reform the gussets of the bag, to close it and hold it in its formed state. These arms are then driven toward the sealer, transferring the bag into a powered twin belt feeder, making it possible to handle even the most unstable products and thin flimsy bags with ease as the bag top is held at all times prior to sealing. The consistency of product presentation that the system achieves eliminates the need for operator supervision. "The Total Bag Control System has proven to be highly efficient and, coupled with the installation of three Pacepacker palletiser robots, we have been able to reduce our packing staff by 40%, relocating them elsewhere within the operation," remarks Chris Pacepacker, a robotics systems integrator who has installed 400 palletising systems over the past 15 years, now use the latest FANUC robots as part of their automated solution. Installed at the I'Anson plant is a FANUC M-410iB series robot which offers 4 axes and payloads ranging from 140 to 700kg, as well as a high performance R-2000iB series robot with a payload from 100 to 250kg. "As a FANUC strategic partner with a 15 year relationship, Pacepacker brings unrivalled specialist application experience, which only a system integrator can, to devise a solution from an initial layout to one which includes purpose built end-effectors and control programs," explains Dennis Allison, Pacepacker Managing Director. "The new Pacepacker robotic palletising solution provides accurate and reliable sack stacking on a pallet to within 0.1mm with no human intervention. The robots provide a perfectly presented pallet every time and have minimal moving parts, which reduces the room for error and the likelihood of breakdowns. Subsequently I'Anson's operator and maintenance intervention has been reduced by 90%," he adds.