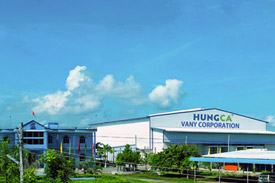 Hung Ca Co., Ltd, Vietnams largest producer and processors of Pangasius fish, sounded off the beginning to the construction of their new aquafeed mill and fish oil refinery to be located in the Binh Thanh Industrial Zone, in Dong Thap province.
Expected to cost a total of VND250 billion (12 million USD) and cover an area of 8 hectares, the feed mill and fish oil refinery are expected to be in operation by December of this year.
The feed mill is planned to have a production capacity of 800 tonnes per day, while another woulf produce 300 tonnes of fish feed and fish oil each day utilising advanced equipment imported from Europe.
The two facilities will provide 290,000 tonnes of fish feed and over 400,000 tonnes of aquafeed yearly to Hung Ca Co. and fish and shrimp farmers based in the Mekong Delta, said managing director of Hung Ca Co., Tran Van Hau.
"Aquaculture feed price volatility posed one of the biggest difficulties for the firm last year. The presence of these two mills sets a benchmark for us and means we have to complete the closed process from farming, processing to export as well as produce high value products by using available by-products," Hau said.
Hung Ca Co. is growing tra fish on 410 hectares, which is believed to be one of the biggest farming areas in the Mekong delta. The company also operates two tra fish processing plants.