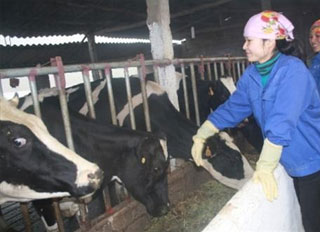 Moc Chau Dairy Cattle Breeding Joint Stock Company held the inauguration ceremony on Monday, for its new total mixed ratio (TMR) cow feed processing plant.
The plant located in Moc Chau town, Son La, will have an intial production capacity of 120 tonnes per day. The feed plant produces a TMR of mixed roughage and concentrates, providing dairy cows with a more balanced nutritional diet.
It is only the second of its kind in Asia, and was built using technology from Korea.
The TMR plant will supply feed to the dairy cows of the Moc Chau area, as well as dairy cows nationwide. The plant will help to improve milk productivity and the quality for the Vietnam's dairy cattle.
Tran Cong Chien, General director of Moc Chau company, says the TMR feed processing plant will enable the company to increase its livestock to 30,000-35,000 heads by the year 2020, and help to change cattle breeding in the vicinity.
The inauguration of the TMR feed processing plant, on April 7th, fell upon the same day as the company's 55th anniversary.