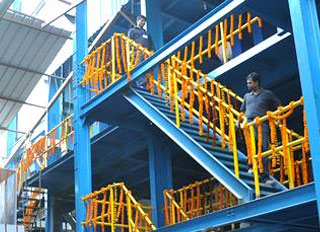 On Friday, Protech Feed's new Rs 25 crore (USD$5 million) cattle feed mill and hatchery was inaugurated. The feed mill located in Hajipur Industrial area, was inaugurated by Chief minister Nitish Kumar who also laid the foundation stone for a Rs 25 crore (USD$5 million) frozen food processing unit on the same site.
Kumar stated "We are committed to sustained growth of industries in the state. The state government has framed an attractive industrial policy. Huge subsidy is being provided for the establishment of new projects," Kumar added that the state was giving special emphasis on development of food processing units because it had huge scope in the agro-based economy of Bihar.
Kumar lauded PFPL owner and Sahibganj MLA Raj Kumar Singh for taking the initiative in setting up industries while remaining in active politics. Agriculture minister Narendra Singh, animal and fishery resources minister Giriraj Singh, food and consumer protection minister Shyam Rajak also spoke at the inauguration, while industries minister Renu Kumari Kushwaha presided over the inaugural function.