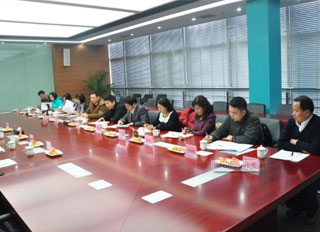 On the afternoon of March 5, professional research team of customs export monitoring visited Muyang. The research team includes ESS Zhang Bingzheng (CP), Nanjing Customs Tang Renjun (CP), Yangzhou Customs Wei Bing (Deputy Commissioner), Zhang Xin (Chief), Sun Dan (Chief), Young Nam (Chief), Guo Shitao (Chief), Peng Xiao (Senior Staff), Ding Linglin (director of Clerks), Cao Haibo (Senior Staff) and Zhang Jingxian (Senior Staff). The Feed Engineering Division Director of Muyang Liu ChunBin and general manager Paul Kyi accompanied reception.
After Director Zhang and his party arrived in Muyang, they soon started a discussion at once. As the only company in Yangzhou research enterprise, he made the survey on company's development and export situation. Liu Chunbin introduced the development of Muyang and the main business model in overseas markets sharing some experience and proposed to strengthen communication, business and other norms and customs requirements.
After discussion, a pedestrian first visited the Science Park Exhibition Hall, through the introduction, Muyang's achievements were expressed affirmed.
Subsequently, they visited the production plant, and showed that they got harvest on Muyang's modern water production technology, product quality control, and world-class processing equipments.