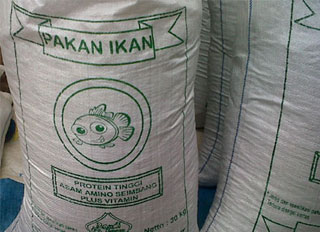 Jambi provincial government are to build a floating fish feed mill in the New Tangkit region, Muarojambi district.
Jambi Governor, Hasan Basri Agus, explained that the floating fish feed plant is a step towards increasing the production of freshwater fish in Jambi, that have so far been held back by the lack of availability and high prices of fish feed.
"We have allocated around Rp 3, 2 billion for the floating fish feed mill. The feed mill will be able to solve the problem of low expected profit margins of farmers who previously had no option but to use expensive fish feed," said Hasan Basri Agus.
Head of Marine Fisheries - Jambi, Saifuddin, said the floating feed mill will be established on an area of half a hectare.
The production capacity will be approximately 25 tonnes per day, with the raw materials source locally from the Jambi Province.
Besides meeting the needs of feed for fish ponds in Tangkit, Muarojambi, the roduction plant is expected to supply the needs of fish farmers feed in a number of other districts in Jambi province.
"We are the second province to construct a floating fish feed mill. All raw materials for feed production will be using local ingredients," said Saifuddin.
Ditambahkannnya, previously Jambi provincial government also has built Fish Processing Industry Units Kemingking Village, District Tamanraja, District Muarojambi, to increase the welfare of the fish farmers.