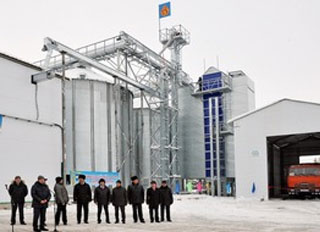 A new feed mill was launched yesterday in Udmurtia, Sarapulsky District in the Urals.
The feed mill will produce 40 different types of feed formulations, and have a production capacity of up to 40,000 tons per year.
The feed plant in the Urals is part of a large investment project to build a poultry complexwith a production and processing capacity of 6000 tonnes of live weight per year. 
Apart from the feed mill the poultry complex is comprised of an incubator platform, a fattening plant, a slaughter-house, and a meat processing plant. Total investment for the project amounted to 1.7 billion rubles (USD$ 50 million).
The new plant is expected to create 250 new jobs.
The project was implemented by Russian company Askor and German company Himel. Udmurtia assumed part of the obligations for the construction of energy and engineering infrastructure.
According to project managers, construction of the second phase of the complex will commence in 2014. 
After the opening ceremony was held for the plant, head of Udmurtia Alexander Volkov, noted every year the country was becoming more attractive to partners and investors.