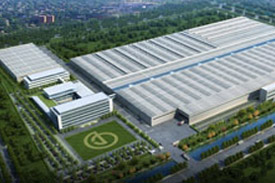 Muyang Group's under-construction new sci-tech industrial park, which started construction in 2010, is due to be finished and formally opened before the end of this year, according to the company. The new sci-tech industrial park will be devoted to the research, development, manufacturing and installation of food and feed machinery, equipment and related facilities.
Muyang Sci-Tech Industrial Park is located next to Muyang's secondary industrial park. The park has an area of 500mu (33.3ha) and an aggregate construction area of greater than 200,000 m². The investment in total is greater than CNY 1.05 billion ( approximately $170 million USD). The Sc-Tech Industrial Park will assist Muyang to accomplish one of it's set 2015 strategic goals, being a turnover of over CNY 20 billion ($3.2 billion USD).
"Construction of the Muyang Sci-Tech Industrial Park will help and contribute Muyang fulfilling its vision of becoming a world leader in the development, production, services and construction of mechanical installations worldwide, and is included along with other strategies in Muyang Group's 2015 strategic plans," said Fan Tian Ming, president and CEO of Muyang.
The building of 4 to 5 production bases overseas is being studied for the close future, with the 1st potential one of these being planned out for the Middle East.