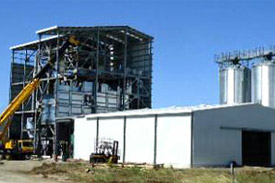 BioMar, one of the leading suppliers of high performance fish feed to the aquaculture industry, started its first aquafeed production run in their new feed production line constructed last year in Costa Rica.
The feed production line, which will be formally opened in July of this year, will soon be selling a number of new supplements that are sustained in an sophisticated nutritional strategy for genus Tilapia, amongst Central American fish farmers.
Reported by the Vice President of Biomar, Felipe Ureta, in the company they're "genuinely satisfied with the advancement already accomplished and the high level of committedness demonstrated by the people, where every step has been completed to schedule."
Jorge Vargas, the new general manager of the feed production line in Costa Rica, expressed: "We are starting an escalating manufacturing process that will slowly be on the rise and will gain the expertise and quality that are typical of BioMar."
This feed production line is the most advanced in Central America as it is fitted out with the latest production technology.
BioMar managers, similar to those of AquaChile – a company that has linked up for this project -, carry on to work so as to make sure that all processes and operations abide by the strict internal standards.
Ureta added: "We are focused on the implementation of the same high production standards that are typical of BioMar Group, which our customers recognize in each factory of the group around the world."
"Everything is being prepared so as to comply with the certifications and standards BioMar Group adheres, which are the same as those required by our customers and by the most demanding markets," Felipe Ureta, the vice president of the Biomar stated in conclusion.